For some extra information about navigating the forum you can go to Forum Tips
Expanded messaging system
#1
· November 19, 2021, 12:11 pm
For some time now we have had private messaging available using the free version of the Better Messages app.  A couple of days ago we installed the upgraded version [which carries an annual fee].  
You may have noticed a tab/box at the bottom of your browser page that says "Messages".  IF you have messages that were sent to you there will be a number as well.  Click on that tab and you'll see both new and your old messages. 
At the top of an open MESSAGE, you'll see a string of symbols, the first is three dots.  If you click on those you have three options Mute thread, Clear Messages, Delete thread.  The second image is a sort of video camera that lets you start a video call.  The phone symbol lets you start an audio call.  The document image lets you share a document. The X of course closes the window.
YOU MUST BE IN AN ACTIVE CONNECTED SESSION WITH SOMEONE FOR VIDEO CALLS, VOICE CALLS OR DOCUMENT SHARING.  YOU MUST ALSO BE ON A SUPPORTED BROWSER. You may start a voice call before you're connected to the other user but they must answer within 30 seconds for it to work.  You'll have better luck if you establish a text conversation first.  The chart below shows which browsers should work.  All the popular browsers are covered.
RTC Peer Connection API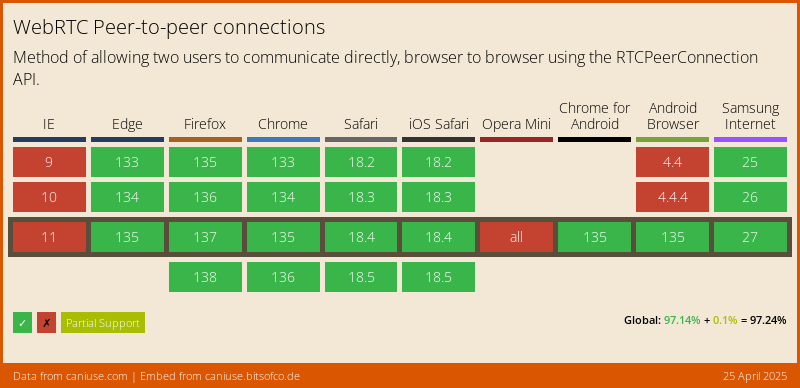 A few more things you should know...
If there are check marks beside a message you sent to someone else it indicates that the message has been received.
To start a new topic with another user you click the words "private message' under their  image and name beside one of their posts or you can choose the little box with a pencil that appears at the bottom left of the Messages tab/box when it's open.
The traffic transmitted using the app is encrypted BUT it is also stored on a server, DO NOT USE THIS FOR SENSITIVE PEIVATE INFORMATION.
This may become a feature that is only available to members of the USCA.  That decision has not been made.
Play around with it and let us know of you want to keep it or let it go.
Al
Click for thumbs down.
0
Click for thumbs up.
0
Last edited on November 19, 2021, 12:17 pm by Al Olme2
Al Olme Minneapolis, Minnesota
#2
· November 19, 2021, 12:56 pm
Al, this is exciting, there are so many ways this will be very helpful when trying to explain technical points to another member, or show details of a part or installation. 
Thank you for making the upgrade.
Jan
Click for thumbs down.
0
Click for thumbs up.
0
#3
· November 22, 2021, 11:48 am
Cool.
IMO, feature should be limited to USCA members.
Duncan
Click for thumbs down.
0
Click for thumbs up.
0
2011 R1200GS + EML CT2001