For some extra information about navigating the forum you can go to Forum Tips
WE ARE NOT ASKING FOR GIFT CARDS. IF YOU RECEIVE AN EMAIL TO THAT EFFECT, IT DID NOT COME FROM THE USCA. IT IS A PHISHING SCAM. DO NOT REPLY!
New Valkyrie Hack on the road
36 Posts
September 7, 2015, 12:41 pm
Liked the Motorvation Formula Hack a lot, but just wanted a bit mote oomph than the GL1200. Took wayyy to long to build, as free time on weekends seem to get scarcer and scarcer... Not sure if that's a word, but it should be... After maybe 200... miles I like it!
2000 Valk IS with Motorvation Formula II Sidecar. Wifey and rescue canine on maiden voyage. The canine is a rescue dog that some schmuck abandoned out in the desert in Phoenix. She was really skittish when we got her about 1 1/2 years ago; and she was none too sure about this sidecar thing... But after three rides she's eager to jump in as soon as I jingle the keys...
Been almost a year on this, even using Motorvation factory mounts. While pricey, they are well made and fit with only minor "adjustments". But if you are finicky, the powder coat they used was this off color grey hammered color, that next to our paint took on a greenish hue; odd. So I ended up re-powdering in glass black. Hack build mods include 1" over WORKS heavy duty shocks, wheel bearings all around and steering bearings (hacks are hard on these), dealing with out of round aluminum wheels (hint - use the Motorvation steel wheel), paint, powder, electrics, truck air horn with compressor/receiver/standalone battery, Hack ride height controller, canine shade (which still needs new canvas) 6 degree raked tree, extended forks (to compensate for the raked tree) CT with double bearings, LED turns fore and aft, digital flasher, trimmed fairing, steering damper, VTX fender, 6" handlebar risers, Harley "Bad Boy" bars (I couldn't make that up...), Laminar Lip deflector on the windshield (works fantastic), 6000 lumens of Clearwater LED driving lights with a rheostat, a bunch of general maintenance stuff (the bike sat so long, that even with running it once a month for 20 minutes or so I had to rebuild the carbs), new petcock, and prolly a few other things I've forgotten...
Runs and rides great. A bit (well, a BIG bit) more pizazz than the GL1200 the hack was on previously. Now I don't need to run near WOT to run at 75mph down our local Interstate.
The only drawback so far is gas mileage... Went out to Tombstone Fri/Sat to get some miles on the rig, and test the canine in a hotel. 20 mpg on the first tank, albeit maybe half the miles at 75mph; yikes! My GL1200 solo got 40 mpg, and the GL1200 Hack got 25. So as the Valk solo (I always buy/build things in pairs...:-)) gets about 30 mpg, 20 for the Hack is in the ballpark. Next I'm going to be hunting for an aux tank; unfortunately, the standard Valk "solution" of a belly tank is not viable. as the hack subframe crosses under the main frame in exactly the place the belly tank resides. May have to resort to some of those 1 gallon Roto Pax portable fuel cans. I used those with the GL1200, carried in the starboard side saddlebags. Also unfortunately, the Valk saddlebags are a lot smaller than the GL1200. Sigh.
Anyhow, here's some pics:
Mounts: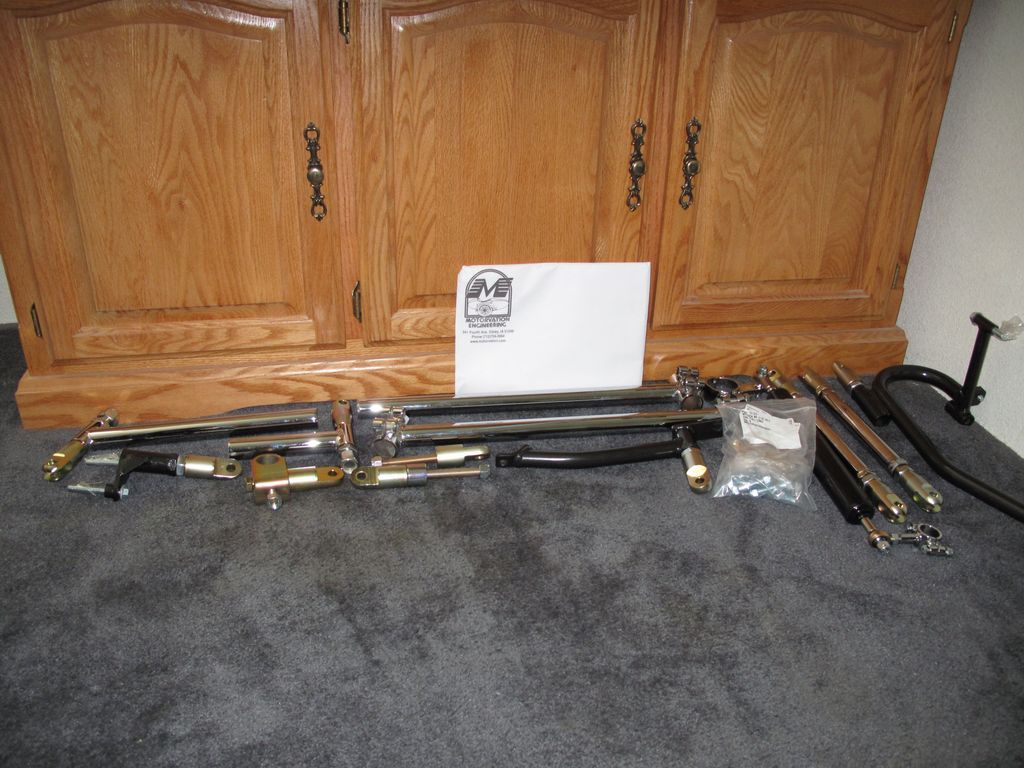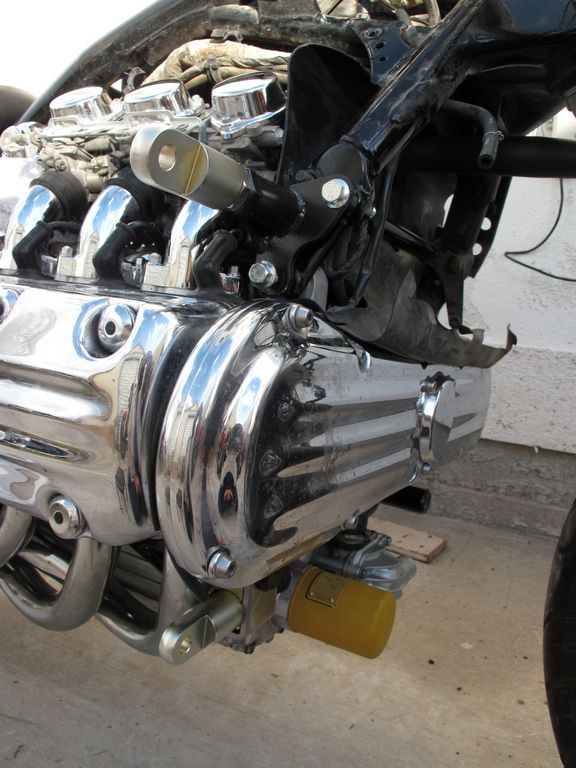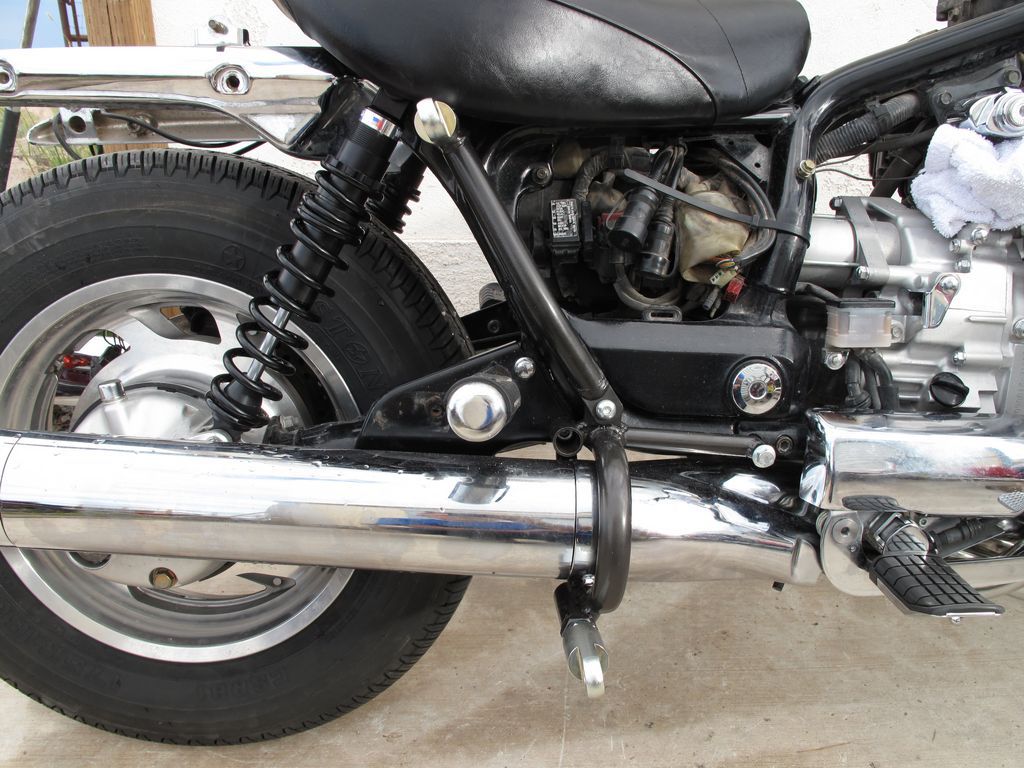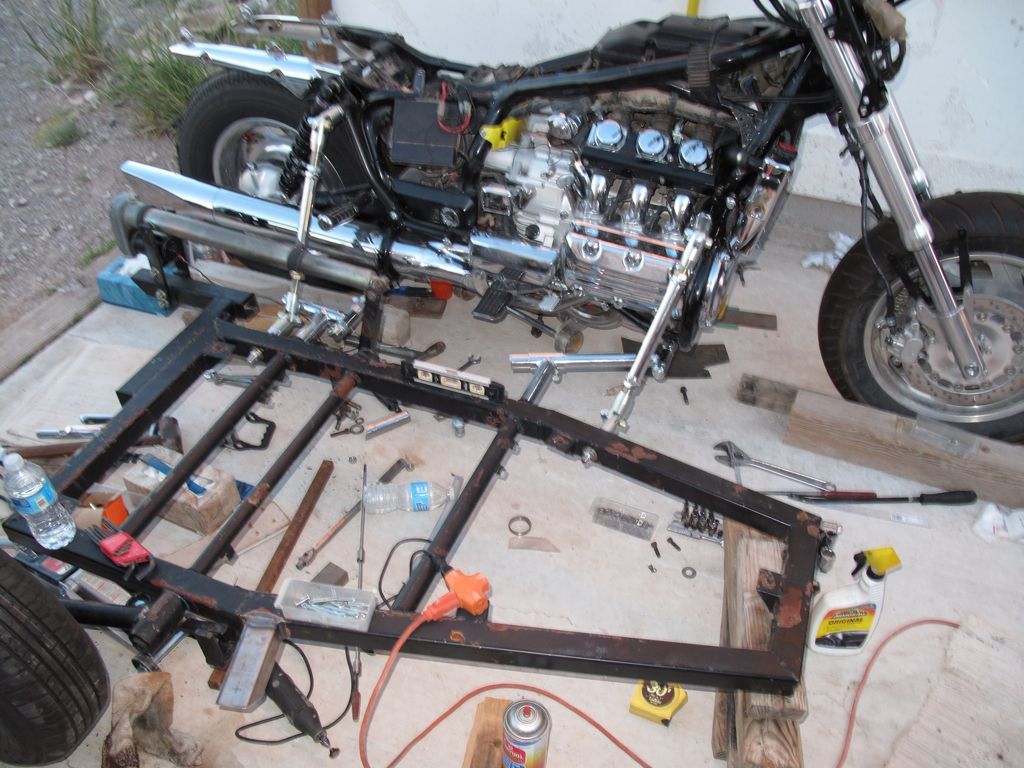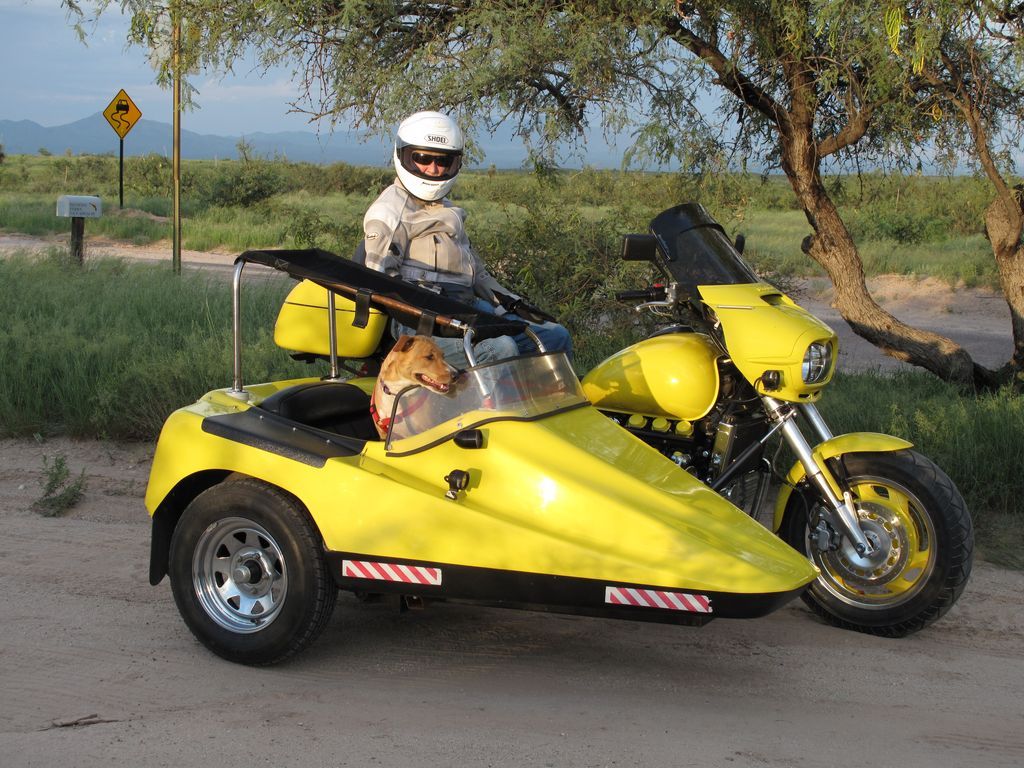 From yesterday in Tombstone: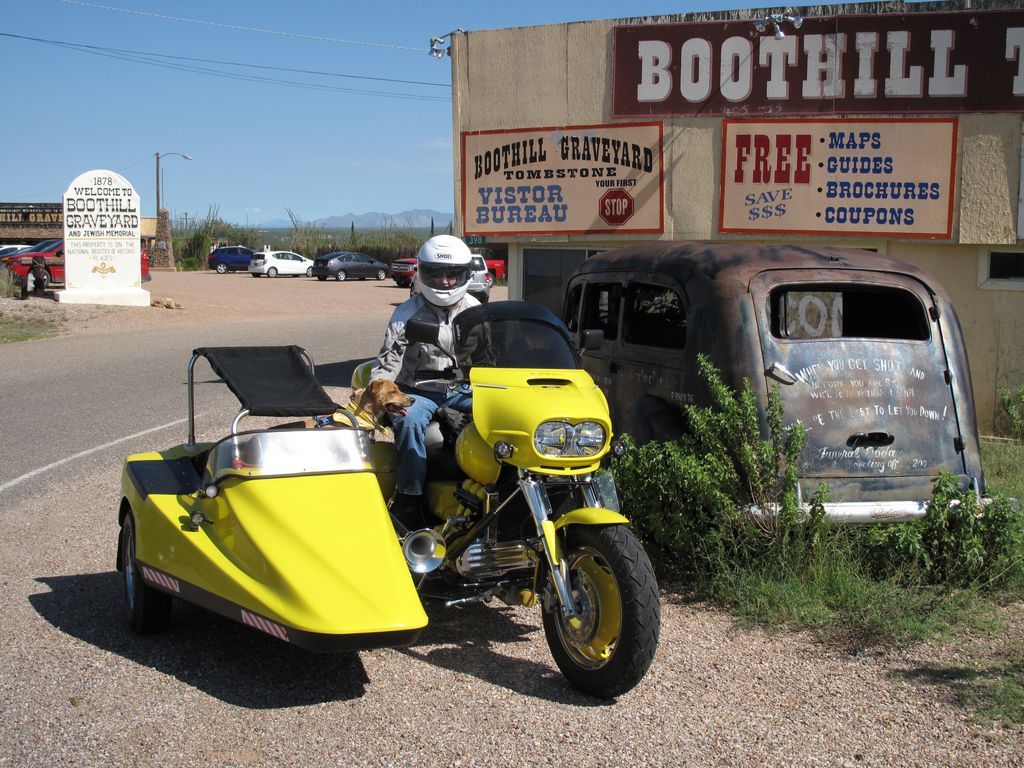 While I have not heard of any fork failures due to Valk raked trees (I went 6 degrees, as opposed to what some do at 8)/extended forks (1.5"), we tend to ride hard and fast. We have a 3 mile long shared driveway that is dirt, always in varying stages of flatness. Usually washboarded, pot holed, and with a few stream crossings thrown in during monsoon season. It is disconcerting to see the USD forks flexing fore/aft maybe half as much as compressing. Bumps on fast sweepers also gets them flexxing, but sideways... Contacted WASP in England a few weeks ago, and having them build us a set of LL's. Had them build a set for the XR1200/Ural, and they are superb. Here is a set they built for a Valk a few years ago, when they were still using a straight fork. They are all curved now like in the inset.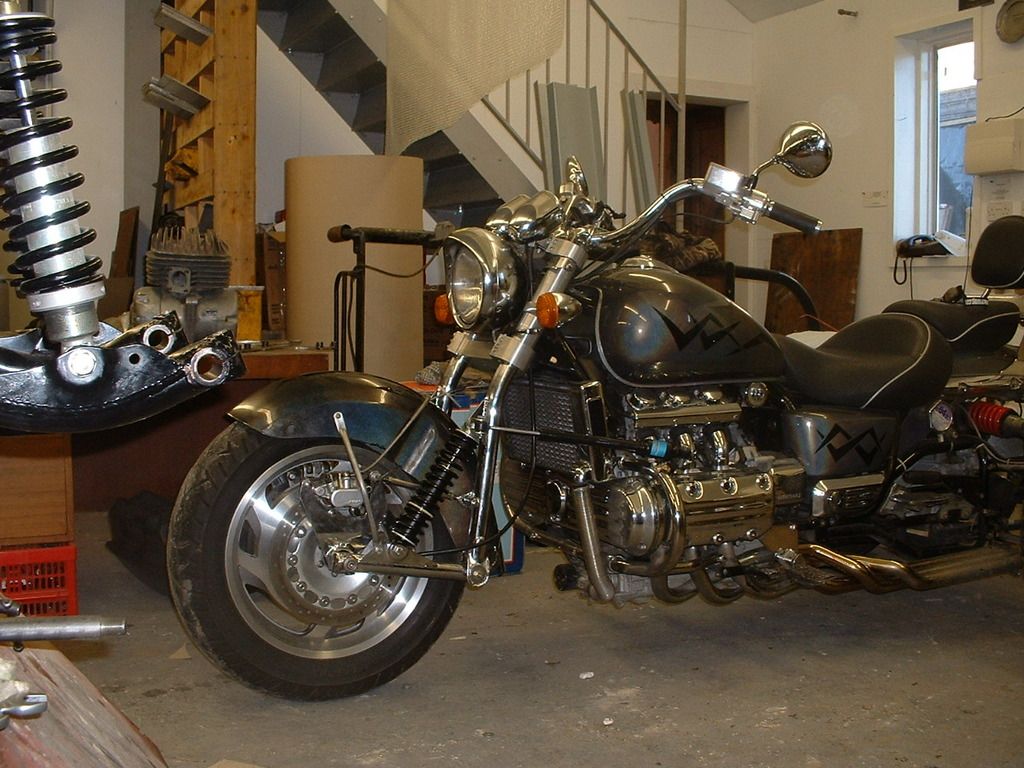 Click for thumbs down.
0
Click for thumbs up.
0
3 Posts
September 7, 2015, 1:38 pm
Beautiful! Thank you for posting
Click for thumbs down.
0
Click for thumbs up.
0
658 Posts
September 7, 2015, 3:00 pm
A very awesome piece of work.
Click for thumbs down.
0
Click for thumbs up.
0
139 Posts
September 8, 2015, 2:30 pm
Great looking rig. 20-25 mpg is what I get with mine as well. I've played with smaller windshields and got only marginal improvement. My tub has the aerodynamics of a pickup truck from the 80's, though. Can't wait to see your LL front end when it's complete. I've used both a SideEffects 1st Gen cut and weld as well as my current XF6 billet set-up. I use a http://www.tourtank.com aux tank, but I'm on a standard and just mounted it to the luggage rack and plumbed it in between standard tank and carbs for gravity feed. Even with your larger tank, with the I/S you may do well with a tank/pump set up.
Click for thumbs down.
0
Click for thumbs up.
0
196 Posts
September 8, 2015, 9:05 pm
Absolutely beautiful rigs.
Click for thumbs down.
0
Click for thumbs up.
0