For some extra information about navigating the forum you can go to Forum Tips
WE ARE NOT ASKING FOR GIFT CARDS. IF YOU RECEIVE AN EMAIL TO THAT EFFECT, IT DID NOT COME FROM THE USCA. IT IS A PHISHING SCAM. DO NOT REPLY!
You need to log in to create posts and topics.
Need Info & Help on Air Shocks for Leading Link Front Fork
23 Posts
I have a rig with a leading link front fork whose air shocks are blown and will need to be rebuilt or replaced. Besides the fork being marked "Unit Fork" and made in England I can find no information on the fork or the shocks. I was wondering does anyone recognize these shocks? Where can I get them rebuilt? Are their replacements available? Thanks for any info.
Here is some more background and specs on the fork and shocks. I believe the fork and shocks are from the mid 1970s to mid 1980s though they could be newer for all I know. The motorcycle is a 1982 Honda GL1100 and the sidecar is a Watsonian Cambridge. Here are the approximate specs on the shocks: 360mm long, eyelet to eyelet 333mm, 10mm eyelets, 12.75mm shaft diameter, 90mm of travel and the shock tube is 38.4mm wide. Attached are pictures of the fork, shocks and motorcycle/sidecar for reference.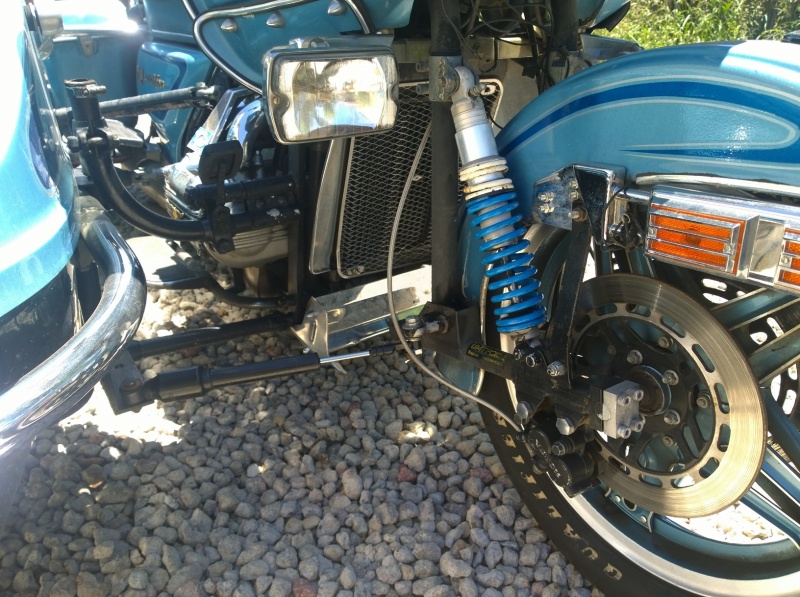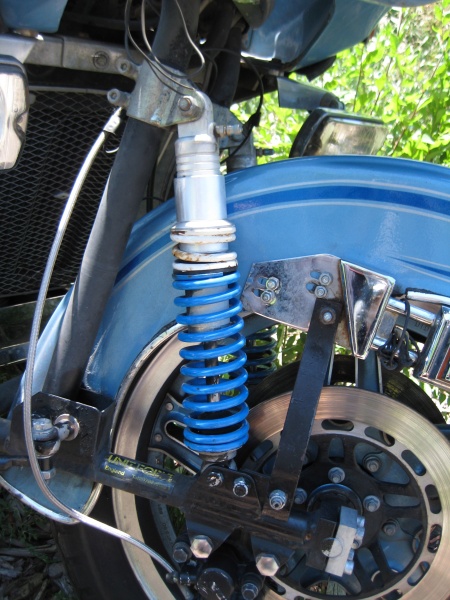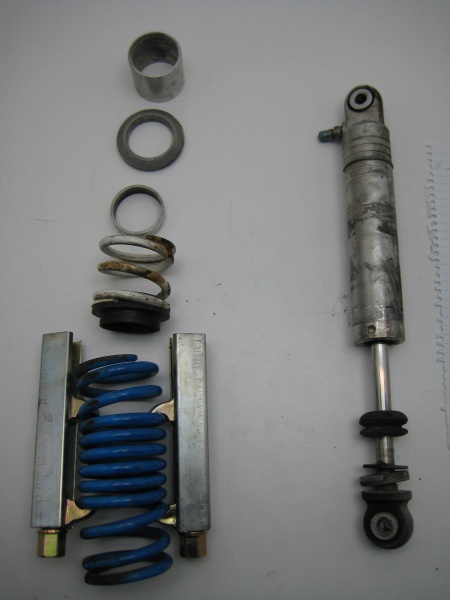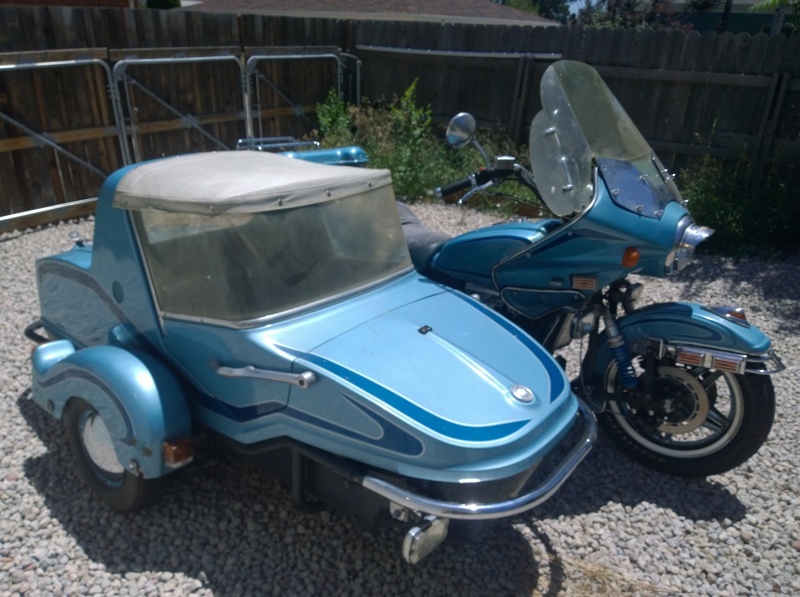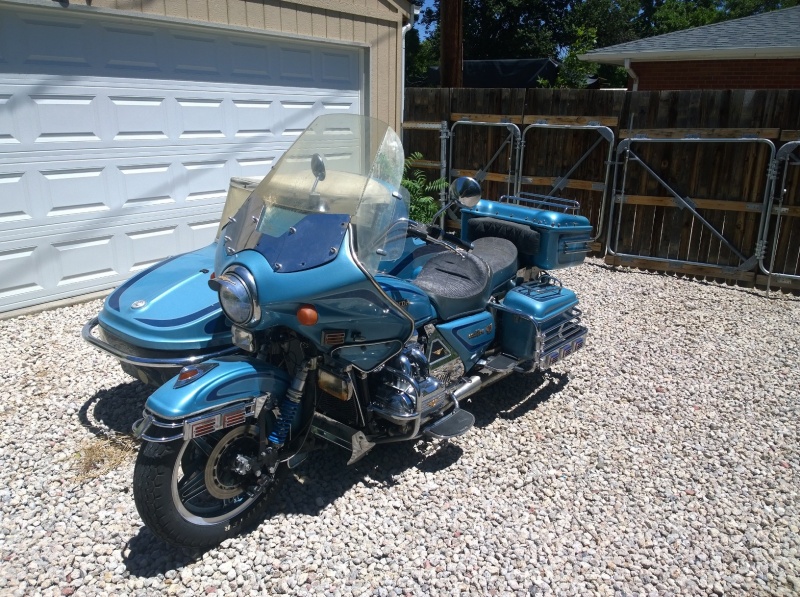 Click for thumbs down.
0
Click for thumbs up.
0
435 Posts
Can you replace this with regular rear shocks?
Click for thumbs down.
0
Click for thumbs up.
0
1,652 Posts
I do not know what shocks these are. I do know that Unit on newer leading links had been using Hagon brand shocks. We have found Hagon to work well. I recommend you contact one of the Hagon importers. We like using Dave Quinn 203- 393-2651 davequinnmotorcycles.com
Dave is very helpful and should be able to point you in the right direction.
We have found Hagon to provide good value, we use them on our sidecars as well as many of the leading links we build.
Jay G
DMC sidecars
866-638-1793
http://www.dmcsidecars.com
Click for thumbs down.
0
Click for thumbs up.
0
I will check with Dave on the Hagons. I was actually on his webpage this morning while researching and have it bookmarked. These old shocks do look similar to Hagons so I looked through their products on a few sites. From what I saw Hagon has gas charged shocks but I didn't find air shocks. Maybe they have some unlisted stuff. I am hoping to stay with air shocks as the rig already has air shocks on the rear of the bike and on the sidecar. Having the front air too I can have them all hooked into the Goldwing's air compressor for quick adjustments on all three corners for various riding conditions. Ideally I would like to find something easily serviceable like standard air shocks. The modern Hagons are only serviceable by Hagon and they don't sell parts either from what I read.
I have looked into the rear shock mods that some DIY guys are doing with their leading link forks. From what I have read results are mixed. An average 13" rear motorcycle shock would fit the fork I have. That type of shock would mess up the fork ride and handling characteristics though. Standard rear motorcycle shocks are incorrectly valved and overly sprung for use on a leading link fork. I am sure with messing around something would work especially if it was revalved and resprung. There are some similar sized rear motorcycle air shocks out there that would work and look nice that I have seen. Would prefer not to mess with something custom though as it could turn into a trail and error mess trying to get things right.
For now I will look for a more standard solution. I have an email out to Racetech's service department inquiring about a rebuild. I will get in touch with Dave at Hagon as well to see what options they offer.
Click for thumbs down.
0
Click for thumbs up.
0
I did further research on these shocks as well as inquired about replacements from a few companies. Here is what I found out in case others need the info. HyperPro never got back to me about replacements. Progressive said they did not have any replacements. Dave Quinn at Hagon USA said he didn't have anything and that I should contact Hagon Europe. Hagon Europe said they did not know what shocks the fork needed but that they would make a custom set if I could provide the specs. Not sure what the cost would be from Hagon as they need the specs to create a quote. RaceTech said they might be able to rebuild the shocks for $500 IF they had the parts.
Dave Quinn at Hagon USA also informed me that these shocks aren't Hagon shocks and that they were probably Works Performance. I did some digging and found Works Performance was a USA company that went out of business a few years ago. After some digging on Works Performance I found a guy who specialzes in works performance and has the parts to rebuild them. He can also revalve and respring. Not sure what the cost would be as I am still communicating with him but I am guessing he will charge around 40% less then then the rather high $500 quote from RaceTech.
The shock builder who works on the old Works Performance shocks informed me that these are not air shocks. They are nitrogen charged shocks and need to be charged to 200psi. They cannot be converted to air shocks as the air chamber space is too small.
I also researched the Unit fork. Unit is no longer in business. That company changed hands and became Hedingham Sidecars. I tried contacting Hedingham Sidecars to no avail. They have a website with email and a contact form. I tried both and neither worked. The email was returned and the contact form didn't work. I guess they may not be in business anymore.
Click for thumbs down.
0
Click for thumbs up.
0
17 Posts
When Unit Forks started they used Koni shocks as they were easily adjustable and freely available. These shocks are now called Ikon and are made in Australia.I have a pair and they work very well at the rear but they are not gas shocks although they make gas or air shocks.I am also going to fit a pair at the front when my Guzzi is ready. David
Click for thumbs down.
0
Click for thumbs up.
0
Thanks for the tip on Koni/Ikon shocks. I will look into it.
Here is some more info to add.
Hyperpro did get back to me after a bit. They have nothing standard in stock though will make anything if provided with the following:
We can supply shocks with a progressive rate spring and rebound adjustment.
The info I need to make the correct shock :
- Weight on front wheel (empty and completely packed(ready to travel)
- Ratio > stroke wheel vs stroke shock.
- width of the eyelet spacers (top/bottom)
The requirements for custom shocks from Hagon are:
Length ( measured between mounting bolt centres )
Shock travel / stroke
Spring rate
Spring diameter
Mounting bush i.d. and width
Click for thumbs down.
0
Click for thumbs up.
0
17 Posts
Ikon come standard with progressive rate springs and an external rebound adjustment at the top of the shock.Plus you get the peace of mind that all spares are fully available.MG Cycle sells them in the USA. You can also have them fitted in the factory with soft or hard springs with varying diameter wire for soft or hard or standard springs.I'm getting a pair with the bottom eyelet offset so there is more space to clear the brake discs.I'm not sure how you would measure the ratio - stroke wheel vs. stroke shock without a dyno and some help.
Click for thumbs down.
0
Click for thumbs up.
0
I think in this instance stroke wheel vs. stroke shock ratio they are referring to how far the wheel moves up and down vs how far the shock extends and contracts. For instance because of the swingarm the wheel may move 6" while the shock only moves 2".
Click for thumbs down.
0
Click for thumbs up.
0